By Robert Washburn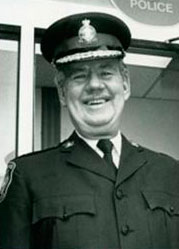 It was with deep sadness the news of the death of former Cobourg Police Chief Dan McDougall arrived this past week.
It would be wrong to say I knew him well because I didn't. But, he and I had lots of contact when I was a reporter at the Cobourg Daily Star. For the all the years I worked as a reporter, the police beat was mine. So, we regularly crossed paths.
He was a cops' cop. His blood ran blue. And, he was a traditional police officer – no nonsense, no B.S., straight-talking guy, who did not mince words. And, there was no mistake when he was upset with a story or a question. Still, he never misled me or tried to spin me. He would be impatient if I tried to be any but direct. I appreciated this and always had a great deal of respect for him.
During his time as chief, it was obvious he was old school. He ran the police department, period. He was not a politico. In fact, it was obvious he detested the political aspects of his job. He wanted to focus just on policing. Any of the machinations from town hall seemed to leave him shaking his head. But, he was not a patsy, nor did he roll over when the hounds at town hall barked. He would also roll his eyes when the Solicitor General or the province would introduce various programs that did not address core policing issues. Yet, he would follow through as expected.
He accomplished a great deal as chief, most notably hiring the first female officer in the history of the police force. He guided the force through the introduction of the new Police Services Act, with the introduction of the police service board – a combined civilian and municipal representatives. He brought in the 911 service.
Once he retired in 1996, there was a succession of police chiefs, leaving the administration never the same. These guys were good, but some were more politically savvy, while others were more bureaucratic. They were mostly good men. But, they represented a different era in policing with a host of pressures McDougall did not face.
When, I left the paper and he was retired, we would run across each other, usually through his involvement in the Cobourg Rotary Club. He was always nice. I like to tease him a bit. It was great to get a smile out of him. He dry sense of humour was appreciated.
It was an honour to know him.