By Deborah O'Connor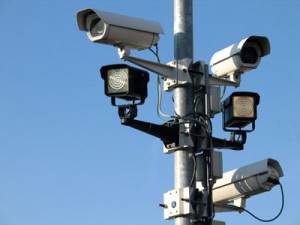 Early in 2011, Cobourg Police Chief Paul Sweet announced at a public meeting, through a grant from the Proceeds of Crime Fund, the police services had obtained two closed circuit surveillance cameras and the hardware to put them in place. There didn't seem to be any objections from anybody and the cameras were duly installed and staff trained to operate them.
Now, a few short months later, the chief has asked the Police Services Board to find funds to buy a dozen more. The request, totalling approximately $91,000 was forwarded to Deputy Mayor Stan Frost's ambitious three-year budget process with the goal of implementation during the same period.
While the community appeared to be content last winter with the idea of two cameras monitoring their activities as they go about their business, how do they feel about the addition of 12 more? Are there plans to consult with us first? It would be instructive to know if there are tangible results from the first installations before we spend almost a $100,000 to install more. It would also be helpful to find out why the chief believes he needs surveillance cameras for the force to do its job.
At January's public meeting, the chief promised there would be no violations of citizens' privacy and identified five reasons the cameras were needed, all stipulated in the Cobourg Police Service Code of Practice. These are: to secure a safe environment; detect, deter and prevent crime; assist in the identification, apprehension and prosecution of criminals; provide visual evidence of crime; and lastly, to maintain public order.
While it all looks good on paper, one wonders how any of these goals can be accomplished without spying on people and property. Isn't that the whole point of having cameras in place?
The areas of town that will be monitored start at and go around Victoria Park and extend to the corner of King and Ball Streets across from CDCI West. Specific locations identified include the corners at Orange/Spring streets, George/Covert streets, and Division/Covert streets. Funny, but those are the areas where good old fashioned community-based policing works the best, where a friendly cop on street patrol gets to know people and has time to develop relationships with them.
We used to talk about community-based policing in Cobourg a few years ago and we have an excellent Community Services Officer in Constable Terry Stanley. Reading the Police Service Report for 2010 though, it appears his time is spent supervising volunteers, making presentations to schools and community groups, and participating in various committees. The Uniform Patrol Unit, with four platoons of five officers and one sergeant each are seldom outside their vehicles, which is a style of policing that can hardly be called people-friendly.
Adding the issue of missing community-based policing to the list, there are several questions around the installation of these cameras that need to be answered by the chief and Police Services Board before their budget request is rubber-stamped by Cobourg council. Alternatives need to be explored to be sure that expense can't be better utilized elsewhere. Somehow the concept of feeling good and being under surveillance are two ideas that just don't jibe.