By Robert Washburn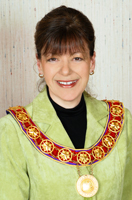 Update Nov 10. 2012: Well, it turns out Lynda Thompson may not be running for council after all. It seems those on the inside of Port Hope politics are aware she is not going to run next time. Again, there is nothing on the public record, so she could change her mind. But if this is true, then it would make a great story. It would be great to see her go on the record about her political future.

Update Nov. 9, 2012: It appears there are two major errors in this piece. First, the municipal election will not occur until 2014 rather than 2013. Second, it seems Deputy Mayor Jeff Gilmer and Councillor Greg Burns stated publicly at the council meeting when the vote took place they would support the status quo, if the vote for the OPP service was not passed, according to Burns in a letter to the editor. They did vote for the OPP option. I was accused of not being present at the meeting and missed this fact. It is true I did not attend and in no media reports or anywhere else in my research of the public records was this stated. Mr. Burns made these two points in a letter to the editor in Northumberland Today (which is not posted to the website). Thanks to Mr. Burns for the information and for not giving up on me totally, as he kindly states in his letter published today. I deeply regret the errors of fact.
Port Hope enjoyed a rare moment of democratic enlightenment last week when council decided to back off it plans to use the OPP as its local police force.
While it was an uncommon moment, it was richly deserved. Residents rallied together to pressure council into its final position. After a year of blood, sweat and agony, residents won a massive victory when Councillor Rick Austin joined with his colleagues Jeff Lees, Mary Lou Ellis and Dave Turck to carry the night and save the Port Hope police force from oblivion.
It is a tribute to all those who organized, showed up, put a sign on their lawn, attended rainy protests, came out to meetings, raised money, made calls, posted to Facebook and a host of other tasks. It was a ton of work, but it paid off. Truly, it is inspirational.
For Mayor Linda Thompson it is a slap in the face. With policing costs taking up one-third of the municipal tax levy, or about $4.5 million, the decision was purely an economic one for her and her supporters. Now, in defeat, she is left with the status quo and an additional cost of possibly $4 million to build a new police station, a process that is already well underway only days after the vote.
It also must sting for Deputy Mayor Jeff Gilmer and Councillor Greg Burns, who supported Thompson. If anything, it shows these are politicians who are out of touch, blind to the community they serve.
With a municipal election only one year away, the political fallout from the past 12 months is going to have an effect.
Thompson was first elected in 2000 and is serving her second term as mayor. She held off five contenders in the last election, but she may not be as lucky this time around. It has not been an easy term in office, either.
Helen Caldicott's speech, failed water pumps, handling of low level radio active waste, the harbour, the purchase of industrial land and some serious budget issues have left her worse for wear. The police issue could be the straw to break the proverbial camel's back for fed up voters.
But, what is more frightening is what may happen in the upcoming months as the town prepares its next budget. It will require a delicate hand to navigate the financial legacy from the police decision without either slashing key services or raising taxes. For those who lost the vote, the budget could be an opportunity to be punitive as a form of petty revenge against those who were victorious last week. Let's hope it does not come to this.
Finally, if nothing else, the police debate demonstrated without question the level of dysfunction within the municipality.
Since former Premier Mike Harris forced amalgamation upon municipalities across Ontario in the 1990s, Port Hope has struggled to find unity between itself and the former Hope Township (Ward 1 and Ward 2). It was a forced marriage that never was consummated. The acrimony is apparent. The police service is an obvious example and it is the most obvious sign of the discontinuity.
Maybe this is just the way it is or it is meant to be. The price residents pay, not just for policing, but for all the potential opportunities to enhance Port Hope, could also be a sign of failed leadership, too.
No doubt, there will be plenty of talk about possible candidates for council in the upcoming days as the sweet taste of victory is replaced by the bitter memories of the past year.