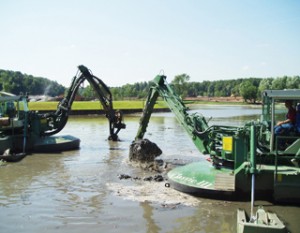 The new "must have" accessory in 2011 for Northumberland municipalities along Lake Ontario is a dredger.
Junior councillor Greg Burns led the charge once more as Port Hope council killed plans for a costly environmental assessment as part of a new marina Tuesday night.
Despite chiding from Mayor Linda Thompson, council voted against plans to spend $750,000 to complete a full assessment, which would lead to building a new marina in the habour.
Using a take no prisoners approach, Burns called the expenditure a waste of money since the investment would result in a financially unfeasible project. He called it a "money pit"
Thompson tried to argue the assessment was necessary so a infilling project to reduce silt buildup could save costs for dredging the harbour. But council would have none of it.
To solve the issue, a proposal is being put forward for Port Hope to buy a dredger, just like Cobourg did two years ago. Little did Cobourg council realize it would such a trend setter.
Notably, the idea of continue to rent the dredger from Cobourg was not mentioned. After the $125,000 cost overrun last summer, it is a touchy subject. Still, a full fiscal audit should be done before Port Hope approves its purchase. It may be cheaper to continue to rent. Let's see if municipal parochialism beats out fiscal prudence.
Port Hope resident continue to prove democracy is not dead in the county. The pressure continues at council. Burns is riding a wave and Thompson seems lost. Efforts by council to enforce a six-day rule for making presentations will not fly. If she pushes too hard, the backlash may give her whiplash. The environmental assessment is just the beginning. If she is smart, she will back off and listen. Forget the rules meant to discourage public input. Be more like Burns and go with the flow.