By Robert Washburn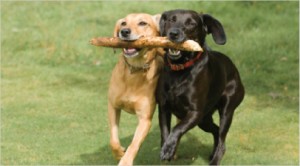 Far too many times local municipal councils take an iron fist approach to dealing with the public. Rather than working with citizens, politicians don't realize how hard they make it.
But, kudos need to go to Cobourg council and their partners as they attempt an innovative approach to its ongoing problem with dogs running free in James Cockburn Park. An unofficial dog park, the town, along with the Ganaraska Region Conservation Authority (GRCA), want to enforce the bylaws governing dog control.
Instead of taking a ham-fisted approach by simply charging dog owners, the town is handing out leashes instead of tickets.
The public education campaign will involve bylaw enforcement officers, Shelter of Hope animal control officers and GRCA personnel.  Everybody is kicking in some money and people-power to get it done.
There will be posters, brochures, press releases, improved signage, media interviews and compliance awards. The rewards and incentives will be given to people walking their pets on a leash.
The cynics will have a field day, saying it will not work. But, what should be noted is the approach. It becomes almost a mantra at some local councils where politicians like to say no to any proposal outside the norm. It is this kind of tactic everyone in municipal bureaucracy should be watching.
And, even if it does not convert everyone, it is a huge step in the right direction. This kind of positive action will definitely be memorable. Having been a dog owner who used to walk a dog in that park, there are some pretty diverse people and their dogs hanging out. It would be worth it to see how everyone reacts to the idea. There may be some who will not be moved.
If nothing else, people will remember the encounters, no doubt.
But, along with the kudos, this still does not deal with the creation of a dog run in James Cockburn Park. For years there have been promises to create a dog park for Cobourg – the most recent during the last election – council has bobbled this ball far too long.
At the heart of the issue is the unwillingness for the various institutions to allow the track of land to be used for this purpose, despite the fact it is already in place.
The tension is between what officials deem to be a use for a particular public space versus how citizens choose to use it.
It is a lot like road hockey. Roads are built for cars. Still, kids can use a side street for a pick- up game of road hockey. It is not the intended use, but it is a good use. Yes, there will be some neighbours who may not appreciate it and complain. But, should this be sufficient to stop the kids?
In 2008, Kingston council found itself in the midst of a very heated debate over road hockey. It caused a huge discussion in the city and drew national media attention. The proposal to stop kids from playing road hockey was dropped.
This speaks to an interesting problem: the tension between what citizens want and what bureaucrats demand. The GRCA has its rules and regulations, along with its own plans for James Cockburn Park. Yet, many residents have used it for a dog run. There have been public complaints, although there are no figures in the town staff report saying how many people have actually stepped forward or the nature of the concerns. Not everyone likes dogs. And, it cannot be a free-for-all. Owners must act responsibly.
Let's hope the officials can extend their innovative inspiration beyond bylaw enforcement to include land use. Rather than driving people away from this green space, let's embrace the current use.  And, instead of making up rules to prevent people from continuing to use it as a dog park, let's see reasonable guidelines so it can be kept.