By Robert Washburn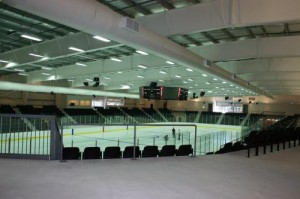 The town may be looking to borrow money or use a reserve fund to make up for an approximate $900,000 shortfall in fundraising for the new Cobourg Community Centre in the near future, Deputy Mayor Stan Frost said earlier this week.
With fundraising efforts continuing, the final amount may change, but Frost said the town will need to look at either borrowing the money with a debenture and he is considering using development fees paid by developers, which is suppose to go towards paying for parkland.
"It is fairly complex," Frost said Monday. "There are legitimate uses of the development charges that are put aside for parks and a portion could go toward this."
Council's original plan for the $27 million facility on D'Arcy Street was to raise $3.1 million. A professional fundraiser, The Fundraising Network, was hired for $75,000 to create a plan to reach the goal.
Since then, little information about the total amounts fundraised are made public other than publicity for donors. A donor wall was unveiled on March 25 naming those who gave gifts greater than $2,500.
Frost said the fundraising committee continues to meet every two weeks and, while he did not have recent figures, he said the campaign remains $900,000 short as of two weeks ago when he was given an amount.
"There are still plenty of activities and things are changing constantly," he said.