By Robert Washburn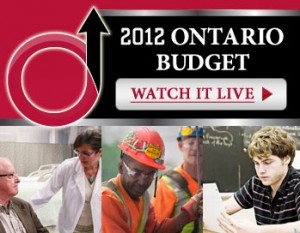 Municipal and community leaders will be left cringing following the Ontario budget, expected to be delivered on Tuesday.
This column is written in advance, so the analysis is based on a number of expected cuts, but the message remains the same: municipal property taxpayers could bare the burden far more than they have before, even when former Premier Mike Harris was hacking and slashing provincial budgets nearly two decades ago.
There were sufficient leaks by the Liberal government over the past few weeks to ease Ontarians into the dramatic spending and service cuts anticipated. Starting with the Drummond Report released in mid-February, the government orchestrated a campaign of fear where economist Don Drummond threated cuts to a wide range of services and programs. By starting with the draconian measures Premier Dalton McGuinty and Ontario Finance Minister Dwight Duncan appeared to be backing down on the most controversial proposed cuts from the report.
Once Duncan finally got up to deliver the actual budget Tuesday, he appeared more reasonable and the cuts less painful than predicted. A sophisticated effort to dupe the public.
Still, pre-budget leaks suggested major cuts to money for road and bridge repairs, along with other infrastructure projects. This comes in the face of damning criticism from expert engineers, such as Barry Steinberg, CEO of Consulting Engineers of Ontario, who said deferred maintenance of bridges and roads put all residents at risk. (Remember the collapsing bridges in Quebec last year?)
Without the Ontario government kicking in its share of the cost of these repairs and reconstruction, municipalities will either delay or they will be forced to raise local taxes. Either way, it is not pretty, leaving residents to struggle along with poor roads, burst pipes and crumbling bridges.
The budget cuts will hurt the most is on people, whether it is children or seniors or the poor.
The Ontario Child Benefit, money given to low income families to help provide for children, is going to be frozen.
Social assistance, including Ontario Work and the Ontario Disability Support Program will also remain the same. Meanwhile, the cost of living continues to creep up. Most of the increases are no longer luxury items, as food prices increased more than four per cent over the past year, according to figures released by Statistics Canada earlier this month. Meat and bread prices went up more than seven per cent.
Watch carefully to see if portions of these programs, especially disability support, get further downloaded to the county level of government. Another cost saving might come from transferring responsibility for delivery to the lower tiers, relieving the strain on provincial coffers and foisting them on to municipal taxpayers.
Finally, it is possible Duncan will target public servants, particularly teachers. With the sunshine list released last week, he has paved a path to freezing wages for the civil service and a rollback on sick-day benefits.
Floating out these harsh measures prior to budget day allows the government to test the winds to see what kind of public reaction will take place before the actual date. The proof is always in the pudding.
Still, as municipalities struggle to cobble together budgets over the next few years, it will be incumbent on Northumberland County residents to take stock carefully to see if the rise in taxes is truly a local problem or is it one inherited from above.
And, let's not forget this is only the beginning of the pain many will see. Just wait to see what federal Finance Minister Jim Flaherty has in store for Thursday.