By Robert Washburn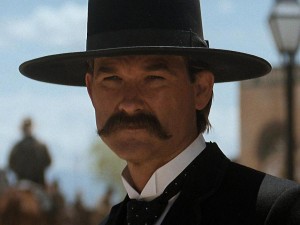 One of the greatest moustaches of our time is the one sported by Kurt Russell in his role as Wyatt Earp in the 1993 movie Tombstone. It's a classic.
Sure, Russell gets some stiff competition from his fellow actors Val Kilmer and Sam Elliot. They sport some pretty cool moustaches. But nothing comes close to that thick black handlebar on Russell's face. And, when he squints his eyes from the bright sun and furrows his brow, that face is just one tough looking mug.
The storyline was pretty simple. A former lawman hopes to retire anonymously in the mining town of Tombstone, Arizona. Instead of finding peace, a group of cowboys overruns the town, leaving Earp and his brothers to bring justice back.
The film is based on the gunfight at the O.K. Corral, which took place in 1881. It is an actual event that lasted roughly 30 seconds and took place about 3 p.m. on Wednesday Oct. 26. It is regarded as the most famous gunfight in the history of the Old West.  The event was made into a movie called My Darling Clementine directed by John Ford. Another was made in 1957 called the Gunfight at the O.K. Corral.
There is a great pivotal scene in Tombstone when the Earp brothers are on a train after being pretty badly beaten up. One of the brothers, Morgan, is killed. The other, Virgil, is seriously injured. So, he is put on the train to find a safe place far away and recover.
Wyatt stays. As he walks down the train platform, he is the embodiment of the hardened, tough guy in western movies. He tells the bad cowboys he is going to "bring down the thunder" for revenge.
Sure the leather chaps, steel spurs, black flowing full-length coat and wide-brimmed hat turn him into the quintessential hero. But, he would be nothing with a clean-shaven face. It is that moustache. Yes, the moustache that makes him look so ornery, mean and threatening.
The real Wyatt Earp had a moustache, too. It is quiet distinguished and typical of his time. He was a diverse man who was a gambler, investor and lawman. He worked as a farmer, teamster, bouncer and saloon-keeper in his life. He was a lifelong friend of Doc Holliday. When he left Tombstone, he lived in California, investing in mines and saloons. A town is named after him. His moustache is not as good as Russell's.
Then, there is Kevin Costner, who played Wyatt Earp in a movie with the same title. It was nowhere near as good as Tombstone and the his moustache matched the quality of the film.
So, in seeking inspiration during these early days, I turn to Kurt Russell, as Wyatt Earp to keep up the mo-mentum.
Please help by donating. Click here to contribute