By Robert Washburn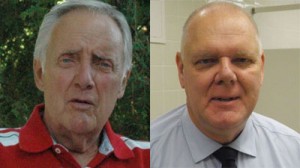 One of the first things that struck me when I saw a picture of myself without facial hair last week was the resemblance to my father.
That might not be a big deal in many people's mind, but it was huge for me. No one wants to be like his or her parents. We all grow up thinking we are going to be different. We are a new generation, full of hope and aspirations. We will do everything without repeating the perceived mistakes of the past.
But as one grows up and matures, a reality sets in. We are like our parents.
How could it be any other way?
When you think about it, we share genetics. They raise us. They influence the most important years of our development – childhood. And, despite our best efforts to move on, they are a touchstone. Even when if we completely reject them, there is still some tiny part of us remains connected.
To see my bare face next to my father is moving. He died on Jan. 8, 2010. I still miss him deeply. Often, there are moments when doing things completely unrelated to family – things at work or at meetings – when he will pop into consciousness. I swear he is in the room, watching.
Just before he died, I began doing our family genealogy. I was able to trace our family history back to England. Our forefathers came to North America in 1619, one full year before the pilgrims. We arrived on the ship The James in Virginia and helped found that colony. We then, some decades later, moved to Connecticut, where we were one of the original founders of the town of Bridgewater.
From there, our family moved around the state, finally moving north to Vermont, where Stephen Washburn decided to take advantage of a 1,000-acre land grant near modern day Brockville. He packed up the kids and came north to settle in 1794.
His son Jarvis moved to a farm on the shores of Lake Scugog, near Port Perry. Since it took up most of a peninsula, it became known as Washburn Island.
We forget our lives are part of an arc, a lengthy narrative over time, telling us a story. It is a story about men and women who make their way in the world, doing their level best. They are not always famous, but they are significant. If to no one else, they are important to us. We are the next step; the next story in the volume.
So as my Movember fundraising continues, the tiny hairs forming under my nose create a shadow, I am reminded how easily things change. Soon, the moustache will make me look different. Yet, underneath, I remain like my father.
Please donate by clicking here.