It is amazing how small things can really hurt. Take for example a tiny bit of cat kibble under a barefoot on the kitchen floor. A stiff collar rubbing against your neck. A lump in an old chair that won't disappear no matter how much you shift around.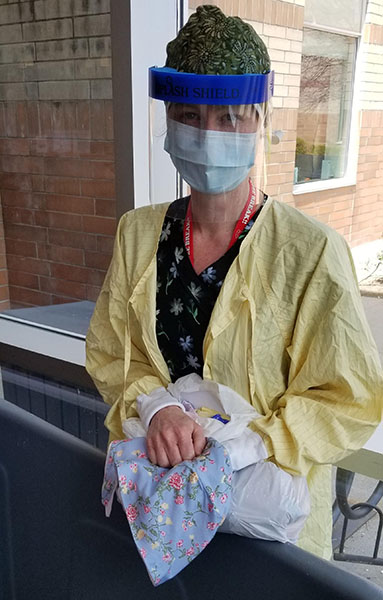 Then, think about wearing a face mask for a 12-hour shift. Those thin, white elastics that go over your ears can really hurt. For those of us who are wearing masks on our faces these days, we can appreciate just how uncomfortable it can be after only a short period of time. And, for a healthcare worker to relieve the discomfort means potential contamination. For them, it is dangerous.
Northumberland Hills Hospital put out a call to the community for those who sew, knit or crochet. There were asked to create a number of items to help their staff. They asked people to make surgical caps, scrub bags, face masks, and something called a mask buddy. That is a piece of material that goes around the head with two buttons or hooks. The elastics from the face mask clips around the buttons and the pressure is transferred to the back of the head. It means no more pain behind the ears.
Heather Vallieres, a registered nurse at the hospital, recently talked about the hundreds of items people are creating to help staff. She explains how useful the donated items are for everyone.
The items make a huge difference. Scrub bags allow staff to put the clothing they wear at work in a separate bag to take home. It lessens the potential for contamination and keeps their families safe. Then, there are the face masks and surgical caps that are especially helpful in keeping the head covered. The staff is so appreciative. In fact, Heather says she has even met some of the people who make these items.
Northumberland Hills Hospital has received hundreds of donations from the community. And, while there is no official tally, the community has given an overwhelming response. There continues to be a demand for hats, scrub bags, and buddies. Officials say the hospital is also sharing its donations with others in the community to ensure everyone that is made is being used.
For Heather, there are not enough words to express the staff's appreciation
If you are interested in helping, you are welcome to call Northumberland Hills Hospital or go to its website for further information.
Podcast: Play in new window | Download