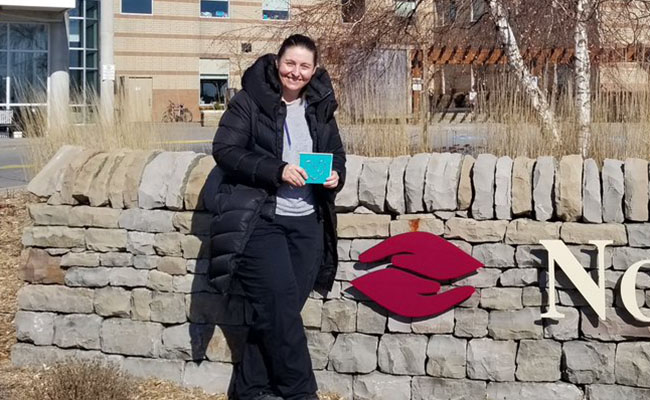 It feels good to acknowledge the staff at Northumberland Hills Hospital – all the doctors, nurses, technicians – everybody right down to the cleaning staff are making great sacrifices. They are part of a legion of essential workers toiling every day in the face of a deadly pandemic trying to keep our upside-down world going.
In the midst of all the chaos, there are still those who can look around them and be moved by the possible suffering of others. This story is one such example of the many acts of generosity going on in Northumberland County. It is how one nurse inspired an entire hospital to give a little bit extra in the face of giving it all each and every day.
Lisa Eisler, a registered practical nurse at Northumberland Hills Hospital, was busy doing her job looking after people in the middle of a world pandemic. At home were her family and friends. All of them were being very supportive.
Lisa is a very active person, and she volunteered at her kid's school. She saw the meal programs where meals and snacks were given to those who did not get a proper breakfast or lunch. It moved her deeply.
But with the schools closed, she got thinking about those kids. What were they going to do without the school's help? And, that got her thinking about all those families who may not be able to afford food for a variety of reasons far beyond their control.
What could she do? And, maybe she could do things in one.
Lisa shared her idea with her supervisor Whitney Lake, who oversees acute and surgical patients. With the help of colleagues, family, and friends, the word spread quickly.
Each shift, Lisa would remind her colleagues, and the money started to flow in. In the end, she would raise more than $2,600 for Food4All, the County supplier to food banks and programs across Northumberland.
All her life, Lisa demonstrated her compassion for others. Since high school, she took the lead on efforts to raise money, hold events, and reach out to those in need. Her empathy knows few limits. And, her concern for those who are less fortunate is always present.
Lisa is not alone. Whitney showed it. Her family and friends showed it. The hospital staff who donated showed they care. And, each and every day, we know there are acts of kindness and generosity taking place.
If you are inspired by Lisa and her squad, you can call Food4All or go to the Northumberland County website or Google Food4All donate and follow the links.
Podcast: Play in new window | Download