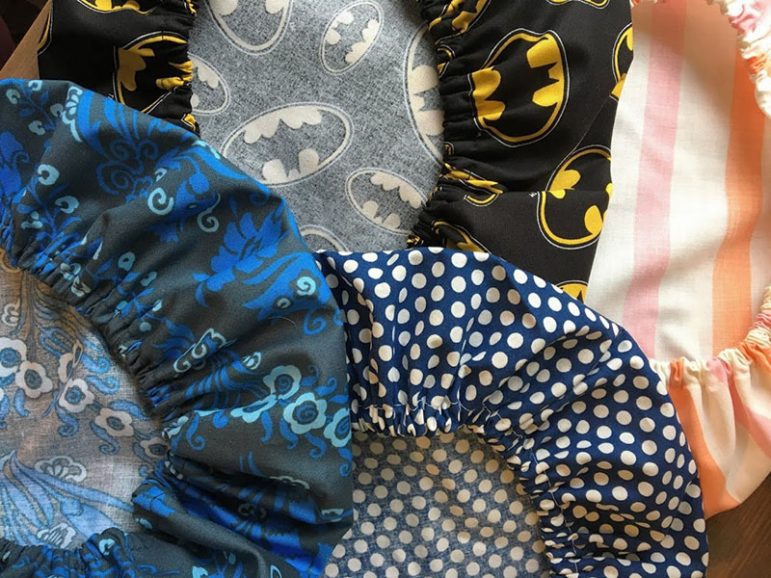 Recently, a call went out from Northumberland Hills Hospital. It needed washable face masks, surgical caps, scrub bags, and mask buddies, a knitted item that makes wearing a face mask all day way more comfortable.
Tim Badgley, a Port Hope resident, saw a the post on social media. He is a semi-retired businessman who owned an interior design shop for 26 years in the downtown. But before the hospital made its appeal, Tim was already busy.
As an interior designer, Tim made many custom items for his customers – pillows, bedding, drapes. So he had both the practical skills but also knew how to design things.
Using his own head as a template, he came up with a design. Using remnants from the businesses, he was able to create the surgical caps.
Tim has been very busy. He sews for Northumberland Hills Hospital and the others he has sewn for Rose Glen Village for Seniors, along with those he has done for friends who are nurses, Tim has produced about 90 caps. So, why does he do it?
While he has made so many caps, Tim says he is done for now, but ready and waiting if the need arises again.
If there is anything this pandemic has taught us here in Northumberland County, it is the generosity and caring of so many people. It is seen every day in the people who do grocery shopping for those who cannot go out. It is those on the frontlines who give selflessly every day. It is all who volunteer. And, it is a semi-retired businessman who sews surgical caps. It is all part of the fabric of our community.
Podcast: Play in new window | Download