By Robert Washburn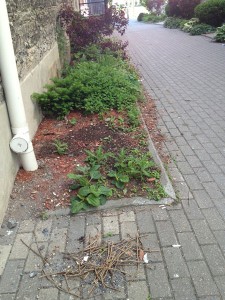 It is gravely disappointing to see the lack of attention to smaller things along King Street West. The Burd Report rightly points out some weeds in need of cropping. His point is not quiet the same as mine. He is angry over the inconsistency of town policy regarding the clearing of Councillor Miriam Mutton's garden, causing a huge controversy over the application of the town's bylaws.
This is a bit less ambitious. After having breakfast downtown last Sunday, it was brought to my attention the lack of cleanliness. The lane near the Dutch Oven and the fallen flower pots are very telling. With all the energy and effort going into the revitalization of the downtown, you would think it would be a banner year for keeping the street meticulous. The flower pots represent the usual vandalism. Still, it is so sad. There will always be people who feel it is their right to destroy public property. It happens all the time – Christmas lights in Victoria Park, graffiti on the walls, and so forth.
Still, it speaks to town pride. As the revitalization begins its series of public releases of its studies, the group needs to consider how many people are really on board. And, if the flower pots are a sign the public is not buying it. It is too easy to simply fluff it off. Yet, a wiser approach might be careful reflection on the broader acceptance of its efforts. A few studies is not going to engender the town spirit needed to solve these huge problems.
[slideshow id=7]