By Robert Washburn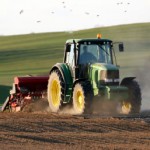 Northumberland County farmers got a slap in the face this week as Northumberland County council refused a request to lower taxes on farmland.
Currently, local farmers pay 25 per cent of the residential tax rate. It argues municipalities like Durham Region, Halton Region, Hamilton, Ottawa, and North Bay charges less (in most cases 20 per cent).
County staff dismissed the request, saying most of the examples given by the federation are cities (urban) rather than rural. Once the rural municipalities in Eastern Ontario were contacted, it turns out the rate is 25 per cent.
In an effort not to totally alienate farmers, a review of farmland taxes will take place over the year.
The Ontario Federation of Agriculture is stirring up the issue as it warns farmers about potential issues around property assessment. In a notice sent out last week, it raises concerns about how farmland is being classified. In some cases, farmland is being assessed as residential property and not farmland. And, if farmers are going to be eligible for lower tax rates, this could be a major problem.
But more worrisome that this is the decline in farming and the number of farmers. The number of cattle farmers dropped seven percent in 2011 compared to 2006, when the Canadian Census was done. That is nearly 5,000 farmers walking away from the job. The number of pig farmers also dropped.
Also, the average farmer is getting older. Nearly 50 per cent of farmers are over 55 years old., up by 10 per cent during the same period.
The county's actions fly in the face of numerous reports and studies done by staff in the past.
In 2008, a report called the Northumberland County Agriculture Action Plan stated:
"The Action Plan was guided by the department's interest in playing an active and
meaningful role in Northumberland County agriculture opportunities."
The same report shows a 36 per cent decline in the number of farms between 1991 and 2008.
Then, there is the 2011-2014 Strategic Plan from the county, where it states:
"In Agriculture, complete the "Regional Local Food Business Retention and Expansion Project" and identify specific developmental projects."
Agriculture is a major industry in Northumberland. Farmers struggle to make ends meet. It is ironic county council will spend money on promotional plans, branding and other items, yet when it really counts on the bottom line for farmers, they get pushed aside.