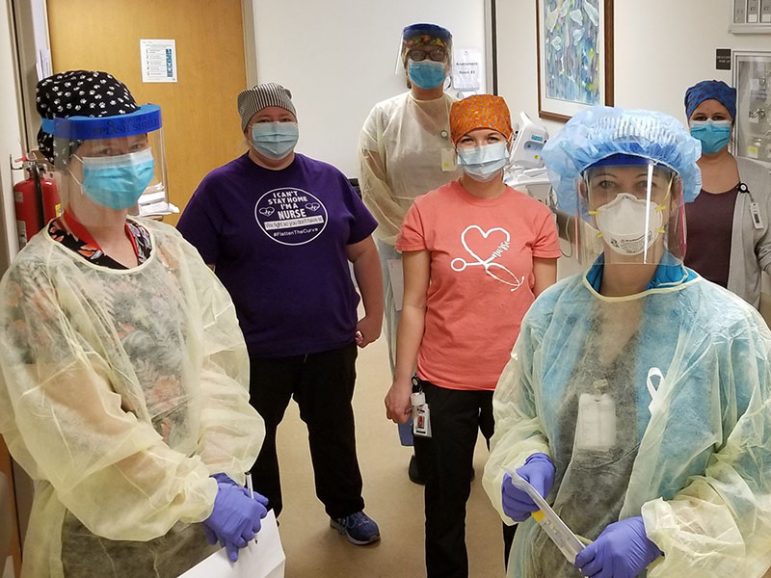 This is the second of a two-part podcast taking us inside Northumberland Hills Hospital to look at what it is like to be a nurse working during a deadly pandemic. The first episode deals with a protest held on June 19, 2020, outside the office of MPP David Piccini in Port Hope. Please listen to both episodes.
Driving throughout Northumberland County, there are many lawn signs praising the work of frontline workers, especially those in healthcare. Many people, including Premier Doug Ford, have called them heroes. Countless volunteers have sewn, knitted, crocheted masks, surgical bags, caps, and mask buddies, along with all kinds of other donations to honour their work.
Yet, nurses across Ontario are not very happy. Over the past two weeks, we watched as protests took place. Nurses are not happy with the Ontario government over a piece of legislation that limits their current salary increase to one percent. It was only last Wednesday when an arbitrator confirmed the amount after an appeal. But it is not the amount that has them so upset. It is the right to negotiate a contract fairly. And to seek wage parity with other emergency workers. So, the union representing nurses has appealed the act, known as Bill 124, in the courts. Manitoba nurses just won their case against similar legislation.
Here is Northumberland, a group of nurses was joined by other unions and members of the public outside of MPP David Piccini's office last Friday to make their concerns known. He met with a group of nurses and held a press conference afterward.
On today's show, we are going to go inside that meeting to find out just what said and what has nurses at Northumberland Hills Hospital so upset. I am talking to Sarah Cowin, the president of Local 105, about their concerns and what they mean. She will also share what it is like to be a nurse during this pandemic. She will take us inside the hospital to understand what it is like to be working every minute of every day facing a deadly disease.  We will hear about how it affects her and her family. And, we will hear about the passion and commitment of nurses on the frontlines.
Here is the second part of my interview with Sarah Cowin.
Originally aired: June 26, 2020
Podcast: Play in new window | Download