By Robert Washburn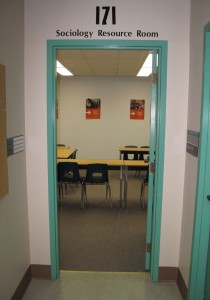 When setting up the first round of face-to-face meetings with my students in the Trent-Loyalist Joint Journalism Program, a room was needed. Thanks to Jeff Langevin, at Trent, an open room was found at Otonabee College.
Built in the early 1970s, the architects used a lot of poured concrete in a very innovative way. However the feeling of the interiors can be quiet strange. The room for our use is OC171, which sits at the end of a very long hall. It is a bit eerie when turning the corner. But, at the end, there is the door with the name "Sociology Resource Centre" just above it.
Upon entering, it is a nice room. The chairs, tables, blackboards and overhead projector dated it. They all look like original items that came with the launch of the building in 1972. Still, it was comfortable. Well lit. And, it has wireless Internet access. The venetian blinds were lowered.
Immediately, the blinds needed to be lifted. And, once opened, the window looks out into a lovely cedar wood and a beautiful garden complete with benches, a sculpture and manicured grass. Somebody takes a great deal of effort to make sure it is attractive.
It is perfect. Cranking open the window on a gorgeous fall day, the sound of wildlife wafts in, along with a cool breeze.
For the rest of the day, it is back-to-back meetings with students. They are a great group, very keen and engaged.
It was funny watching them arrive. They would stick their heads in and look around, almost in disbelief and a puzzled expression on their faces asking, "Is this the place?"
Once home, I shared the description with my daughter. She smiled.
"It is your Room of Requirement," he said, in a matter of fact tone, referring to the Harry Potter novels.
Of course! The Room of Requirement, also known as the Come and Go Room, is a secret room within Hogwarts Castle that only appears when a person is in great need of it. The room transforms itself into whatever the witch or wizard needs it to be at that moment in time.
I love our Room of Requirement. Thanks, Trent.