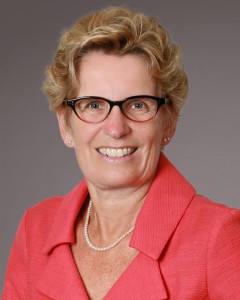 By Robert Washburn
As the new Ontario Premier Kathleen Wynne settles into her role, municipal politicians and bureaucrats will be huddling this week in meeting rooms, halls and over water coolers trying to figure out what this means for local government.
Following her victory over the weekend to lead the Ontario Liberal Party, one of Wynne's key planks in her leadership bid was to empower municipal government allowing more local decision-making on important issues.
No doubt, there is room for optimism. As the former Minister for Municipal Affairs and Housing, Wynne already has a relationship with local politicians.
On several occasions, she demonstrated her sensitivity towards lower-tier issues, in some cases distancing herself from her predecessor's positions. A good example is changes to the horse racing industry where she wants to take a sober second look at the issue. This will be good news for Northumberland trainers.
Another area she spoke out on during the campaign was wind turbines and solar panels. Municipalities want more authority in deciding on where these kinds of projects should go. This will be good news for residents in Alnwick/Haldimand who are opposing wind turbines.
However, she is also pushing for more green, sustainable forms of energy. It will be interesting to see how she plans to meet these goals without acrimony from local opponents.
There are the usual promises of money for roads, bridges and other infrastructure. That will likely depend on federal government and municipal contributions. It is a bread and butter issue, so it is no surprise she made these promises. What will be more interesting is watching how she hopes to build better regional transportation networks in rural area, as she proposed during the campaign.
While she offered an economic development plan, it is very broad and vague. To really tackle local job creation and prosperity, one only needs to look at the local downtown revitalizations efforts underway in Northumberland.
The complexity of trying to help local businesses flourish is a Herculean task (equal to the cleaning of the Augean stables). Add to this the multiple responsibilities of municipal, county, provincial and federal agencies and organizations competing to attract, support and sustain local business, it is puzzling how the system can be streamlined to be more efficient and cost-effective (think the slaying of the Lernaen Hydra).
Wynne is clear the road ahead is difficult, since she said as much in her acceptance speech. Those words are meant to acknowledge the tough task ahead. The concern for local politicians is one they face no matter who is governing: Where do municipalities fit in terms of priorities for the provincial government?
With teachers bearing their teeth, a struggling Canadian economy and an anxious opposition ready to upset the applecart in a minority government, it casts a shadow over an otherwise hopeful set of promises.
Meanwhile, local politicians will need to wait and see how things unfold. For now, they can enjoy some of the afterglow of a newly elected premier coming to office. How long that lasts will depend on who becomes the New Minister of Municipal Affairs and how patient municipal leaders are willing to be as Wynne sets out to govern.