By Robert Washburn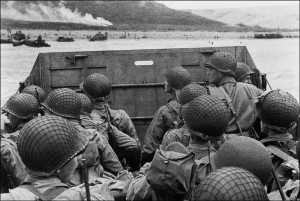 As Port Hope High School students Mac Evans and Kaitlin Calbery lay a wreath at the Canadian Military Cemetery Beny-sur-Mer as part of the official ceremonies taking place later this week marking the 70th anniversary of the D-Day invasion, it is a good time to reflect on the contribution local men and women made during this historic battle.
In an effort to end four years of German occupation, Allied forces invaded Western Europe on June 6, 1944. Nearly 150,000 troops landed on an 80-kilometre stretch of beach along the coast of Normandy, 14,000 were Canadians. Facing a barrage of artillery, machine guns, mines and booby-traps, the invasion was a success, turning the tide of the war.
But, it was not just the troops on the beaches playing a role. The Royal Canadian Navy had 110 ships and 10,000 sailors who provided support during the landing. The Royal Canadian Air Force helped by bombing inland targets.
Canadian troops suffered 1,074 casualties, including 359 people killed.
There are many names to be remember etched in monuments in parks, cemeteries, churches and other public places to help us recall the great sacrifices made by local men and women.
As fewer and fewer veterans from World War II remain, the human connections are harder to make for some. While there are plenty of historic records, books, movies and other resources, it is always the people who are the most striking when they share their recollections that can be so moving.
Recently, Afghanistan war veterans were honoured, in Ottawa and locally, for their contributions.  Slowly one generation fades as another rises in prominence.
It is vital we do not forget the efforts of all those who served, regardless of the war or conflict or peacekeeping mission.
Sadly, veterans do not always get the respect they deserve.
In January, Veterans Affairs Minister Julian Fantino failed to show up for a scheduled meeting with veterans groups to discuss the closure of eight regional offices. When the press was notified, Fantino suddenly appeared, answered a few questions and left. As one Second World War veteran put it, the group felt betrayed by the government.
Fantino repeated his poor treatment more last week when the wife of a soldier suffering with post-traumatic stress disorder confronted him, asking why the government is ignoring families caring for injured soldiers.
The federal government claims it has poured millions of extra dollars into veterans' benefits and services with some qualifying for as much as $10,000 per month in disability awards, stipends and benefits. Still, those who care for the soldiers say families are not getting the support they needs.
So, as we mark the 70th anniversary of D-Day, we cannot forget. These men and women can stir our pride as Canadians for their great contribution. They fought to maintain our democratic rights, to ensure there was tolerance, to guarantee freedom of speech and a host of other benefits many of us take for granted.
And, we should all take great pride in the local representatives who will mark this great occasion in Europe.
Surely, it should be so easy to pay our respects. Let's hope the federal government is able to do the same.
Originally published: June 4, 2014