By Robert Washburn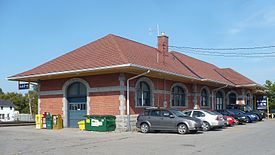 Cobourg's regular VIA rail commuters are up in arms over a number of proposed changes the crown corporation is about to implement that could potentially affect people's means of getting to work daily.
The group is so frustrated with the lack of response over a change in ticket cost; a representative came before Cobourg council Monday night to receive Mayor Gil Brocanier's support in their efforts to lobby for change.
Bill Prawecki and Susan McEwen presented a petition containing about 175 signatures of commuters who use the service to get to work in Toronto. While the majority was from Cobourg and Port Hope, others included Kingston and Oshawa.
In a letter presented to council, McEwen said about 120 commuters from Cobourg use VIA Rail, generating about $8,500 per person annually. The Quebec-Ontario corridor makes up 80 per cent of the ridership and 75 per cent of the total revenue for the railway. The federal government recently provided $923 million for upgrading stations along the route. Cobourg is scheduled to have a new station built.
"The reason that I and others stand before you today is that VIA Rail wants commuters to forfeit the current open-ended ticks that allow us to board any train servicing our area with the understanding that if it is full, we must stand and allow full-fare riders to sit. They now want us to book our rides in advance, specifying the date and time of each ride," Prawecki told council.
Letter to VIA have not been answered and attempt to be heard have failed, he added. The talk amongst commuters is many will start driving again rather than face the changes. The group has also presented a number of alternatives in response to VIA.
The group approached GO Transit to discuss alternatives, but was unsuccessful due to its budget constraints.
What is most frustrating is the lack of consultation, he added.
"They sure as heck didn't get feedback from me or commuters that I know and travel with each day from as far away as Kingston," Prawecki said.
Attempts to get support from Northumberland MP Rick Norlock were not successful, he added.
Council voted to support the commuters and Brocanier added he would add his voice to the complaints.