By Robert Washburn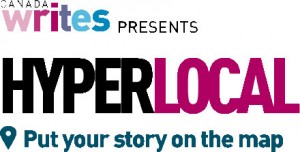 One of the most ambitious and exciting hyperlocal projects in Canada right now is the CBC project "Hyperlocal".
This five-week project is a call to Canadians to tell stories about the neighbourhoods.
"We want to know what's new and changing in your neighbourhood and what that change means to you," the website says.
It is collecting text, photos, audio or raw video. All stories will be posted online and one will be selected by a jury panel at the end.
The story will be adapted into a full interactive digital story by the National Film Board (NFB).
There are also 13 bloggers from various city neighbourhoods contributing, along with some pretty famous writers, contributing their stories, as well.
This should bring some much-needed profile to hyperlocal journalism. Let's hope is starts a national discussion about the importance of this form and how it can be a viable approach to local coverage and advance our notions of "community journalism" into the 21st Century.
One small regret is this is mainly an urban focus. It is too bad there is not more of an emphasis on rural communities and those stories. So many small cities, towns, villages and hamlets have newsworthy stories, too.
This project is limited to five weeks. If it is successful, will the CBC extend it in some form? Will they try to move beyond personal stories and into other forms of citizen journalism?
I am also curious to see what kinds of stories get generated. I know from our own area there is a lot going on with opposition to wind turbines, development, local policing, school closures, radioactive waste clean up and so on. It would be interesting to see what someone from Northumberland might do.
Stay tuned. This is something worth watching very closely.