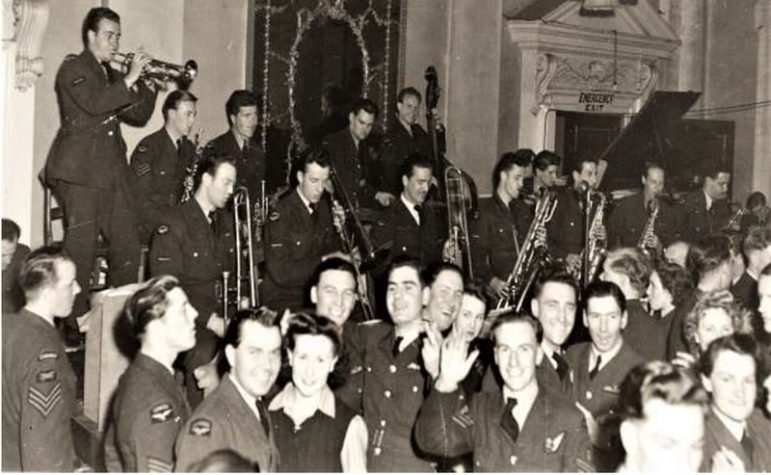 The Streamliners was a big band formed by a group of young men serving in the Royal Canadian Air Force during the Second World War. They were all barely 20 when they joined.
Each one was passionate about music, but also patriotic.
At first, they were technicians and mechanics, training at a base in St. Thomas, Ontario. After a hard day's work, they would sit around playing their instruments, jamming in the recreational hall.
Someone heard them and suggested they play for a dance at the training camp. Then, they were asked to play for local residents nearby. It became evident their contribution was not going to be with wrenches and grease, but with the popular big band music they played.
Eventually, they would be transferred to the airbase at Gander, Newfoundland.
Some other talented musicians would join them. They would no longer be tradesmen, but full-time musicians. And, they would give themselves the name the Streamliners.
In 1944, they would leave Canada, heading for the frontlines to play for airmen across Britain and throughout Europe as the troops advanced against Germans.
Their job was to bring a bit of home to the men and women serving in the air force.
I was so pleased to welcome to Consider This Andy Sparling. Andy lives in Belleville. His Dad was a founding member of the band back in St. Thomas. Andy is a big band enthusiast and plays in many big bands himself today. He often giving concerts in Cobourg and the surrounding area. Andy has written a book called Dance through the Darkness: The untold story of the RCAF Streamliners. This was my online conversation with Andy about his book.
If you are interested in the book, you can get a copy free by email at him at andy.sparling89@gmail.com.
Originally aired May 1, 2020
Podcast: Play in new window | Download