By Robert Washburn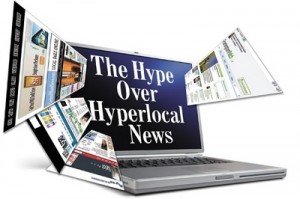 Mark Lever gets it.
The Chronicle Herald also gets it.
The 43-year old businessman is leading the charge to introduce a new newspaper to Cape Brenton, a free weekly, in Nova Scotia starting May 1, according to a Globe and Mail article last week. It is a bold stroke in a time when many community newspapers are closing. Many would say it does not make sense. The newspaper industry is shrinking and the local economy in Cape Brenton is struggling.
Still, Lever, and the company he works for, sees the future of the newspapers as hyperlocal. It is this kind of entrepreneurial thinking that will revolutionize and revitalize news media.
Hyperlocal is highly localized news coverage aimed at neighbourhoods, hamlets, villages, towns and small cities. It is a form of community journalism that embraces new and emerging technology, taking a 21st century approach. Using multiple media, an edgy writing style and engages audiences through participatory tools, it attempts to be highly focused and community-driven. This contrasts a more regional approach many newspapers are taking where smaller newspapers are closed, only to be replaced by regional publications and possibly one reporter in a remote bureau.
This may not be the form Lever will use since hyperlocal is often most associated with online publications. But hyperlocal journalism in the United Kingdom is done in more traditional newspaper forms but highly targeted to an underserved community.
The company hopes to distribute about 18,000 free editions included with the Herald.
Cape Breton is the province's largest market after Halifax. Besides local sales representatives, Lever also hopes to have market representatives in Toronto.
This falls in line with a larger strategy for the Herald. It is the most recent in a number of community-based publications including a weekly newspaper in Antigonish, Bridgewater and Annapolis Valley.
The Herald is the last privately run, family-owned major newspaper company in Canada. The current owner, Sarah Dennis, is the most recent member of the family, which has operated the Herald for more than 100 years.
The expansion is in direct challenge to Transcontinental Media, who have been closing newspapers in the Maritimes and consolidating. While TC boasts it continues to cover small communities, it is challenged to maintain its products on a hyperlocal scale. In fact, it most recently introduced a paywall to its online version of the St. John's Telegram in Newfoundland and Labrador. It also closed community papers in St. George, Harbour Brenton and Placentia in the same province.
The long-standing Cape Brenton Post, which has a daily circulation of more than 20,000 subscribers, will be the major competition. Transcontinental uses aggressive marketing, offering discounts at local stores and coupons with new subscriptions.
No doubt, this is more of a business strategy as the Herald tries to dominate the urban and rural markets, similar to Metroland in Ontario. But let's hope hyperlocal news is being used as more than just a buzzword, but also as a strategy for the quality of coverage, the engagement of audiences and the empowerment of local people who face high poverty levels and a hard economy.
It is an interesting case to watch to see if Lever meets with success, bucking the trend using a hyperlocal news approach.
Relevant links:
Newspaper war brewing as Chronicle Herald expands in Nova Scotia: J-Source article by Kelly Toughill, professor at King's College Journalism School.