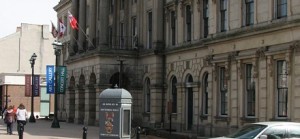 By Robert Washburn
The Art Gallery of Northumberland is in very deep trouble, needing huge support from municipalities, businesses and the public, if it hopes to survive.
Sadly, it is caught up in a complex set of circumstances that must play out before its final fate will be determined. This involves some very unpleasant, possibly controversial steps.
The first must be the resignation of the entire board, without exception.
The gallery needs to be turned over to Cobourg or another municipal body to be run until all matters are settled. There are no federal, provincial or municipal policies or laws allowing Cobourg council to intervene since the art gallery is an independent body sitting at arm's length. The town's only involvement is financial, with its $75,000 per year grant, along with a seat on the gallery board, currently filled by Councillor Donna Todd.
While it may appear drastic, even dramatic, it is a vital step. Continue reading »